The traditional guest house Idili is located in Panormo, a seaside settlement with careful tourist development between Rethymnon and Heraklion. It is an impressive listed, two-storey, stone-built, terraced house with garden, built in the late 19th century. It was recently restored keeping unchanged the characteristics of its Venetian architecture, such as the arches, the wooden ceilings, the fireplaces, the wine press.
The three apartments of the guesthouse – "Agioklima", "Hyacinthos", and "Jasemi" – with wooden bedroom units, traditional Cretan furniture, period objects, embroidery and photos from the folklore of the island, satisfy every desire for comfort, peace and rest. , while the owner's warm personality and passion create a feeling of intimate and friendly hospitality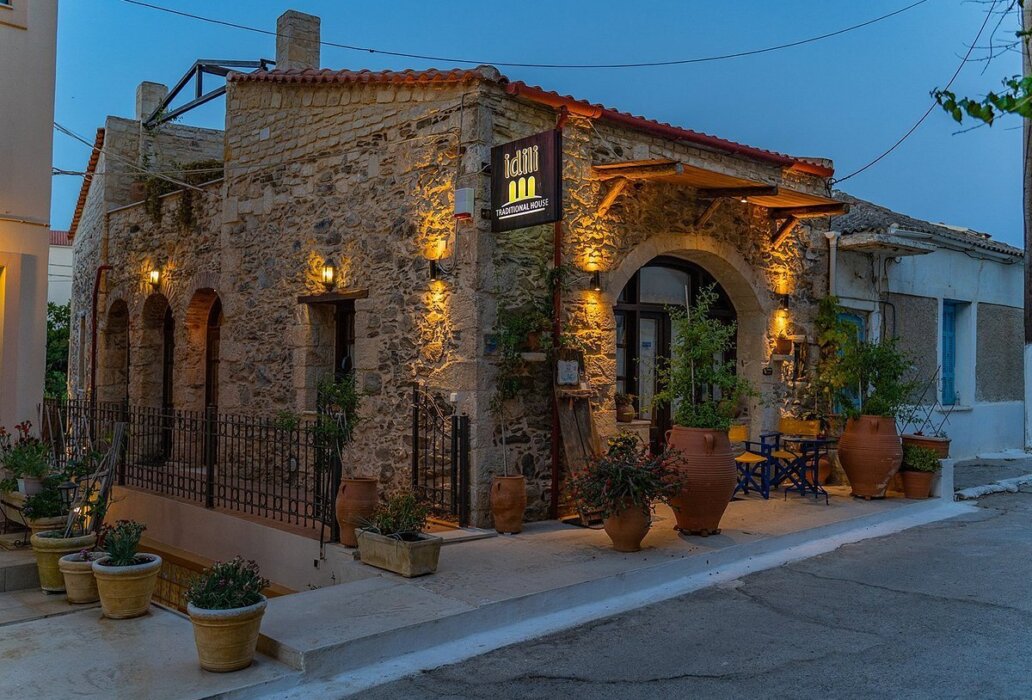 Panormo is a picturesque, romantic, seaside village in a small bay, 22 km east of Rethymno. It gives the feeling of a quiet fishing village with traditional taverns, cafe-bars and sandy beaches.Panormo is recommended for couples and families looking for tranquility and hospitality away from the overdeveloped villages of northern Crete.In the picturesque Panorama of Rethymno there are many beautiful beaches, where the visitor can enjoy his bath.
The central beach of the settlement, located in front of the village, has sand and shallow waters. The beach is organized. To the east is a smaller beach, which is not organized.To the west of the central beach you will find two more wonderful beaches in the area. The two beaches are separated by a large rock. The beaches Limni and Limanaki, as they are called, are sandy and organized. A jetty has been built at their western end, which protects the beaches from the westerly winds.
Further west is a smaller pebble beach. The beach is not organized.
Built on the site of what may have been the Roman city of the same name, Panormo, it was one of the oldest and most important ports of Crete.
At the beginning of the century, Panormo was also called Kasteli Mylopotamos or Roumeli Kasteli. Then it was renamed, due to the existence of a small church that bore the nickname Ai George the Panormo.
Near the village of Panormo, next to the dock of the current village, in the early 13th century the Genoese pirate Erricos Pescatore built the fortress Castel Milopotamo, which was preserved, while at the same time and around it, the settlement developed, which later evolved in today's well-known village.
Panormo Mylopotamos is located about 22 km east of Rethymno. It is a quiet tourist resort, which has developed strongly in recent years, without losing its traditional form. The picturesqueness of the village, the beautiful sandy beaches in the village and the easy access via the Northern Road Axis of Crete have contributed to this.
Panormo Center –  80 m

Beach – 100 m

Restaurants – 100 m

Local Shops – 200 m

Mini Market – 200 m

Bali Village – 15 km

Rethymno Town – 22 km

Nearest Hospital – 26 km

Heraklion City & Port – 60 km

Heraklion Airport – 61 km